LED Wall Pack Light
The LED wall pack Light With Cooling heatsink on back of housing. The LEDs modular fixed on the heatsink directly.
So the new item have good at heat dissipation. Which can save the leds life span.
The LED wall pack is a ETL DLC (Design Lights Consortium) compliant glass refractor LED wall pack equipped with a light shield.
Samsung SMD2835, Up to 120lm/, Input AC100-277V.
35w, 50w, 75w, 100w, 120w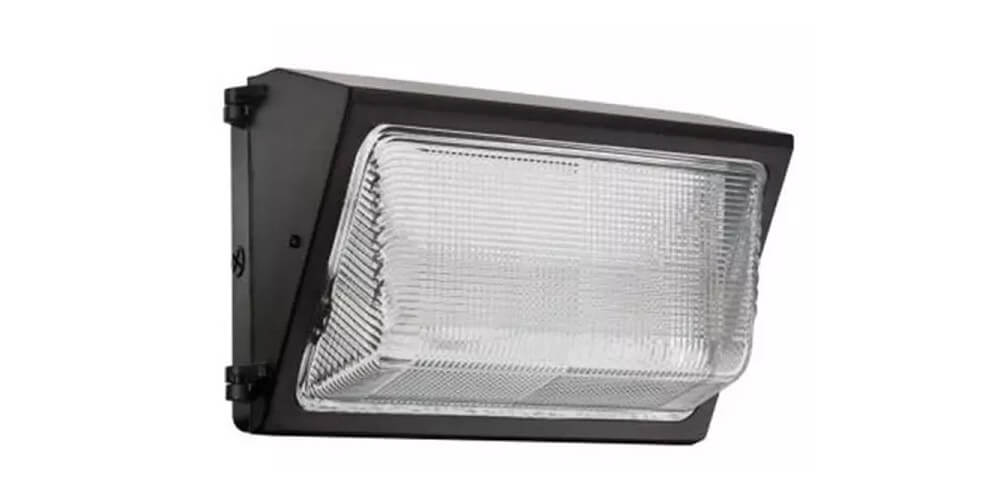 LED Wall Pack Light
High quality shatterproof glass refactor.
Integral secondary heat sink to optimize thermal transfer and maximize performance and life of LED.
Outdoor building wall lighting ideal solution.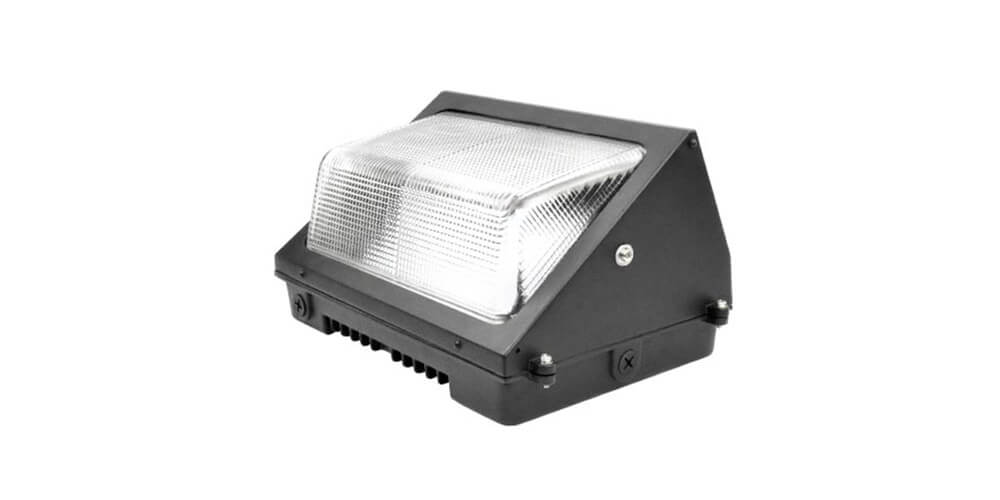 LED Wall Pack Light Datasheet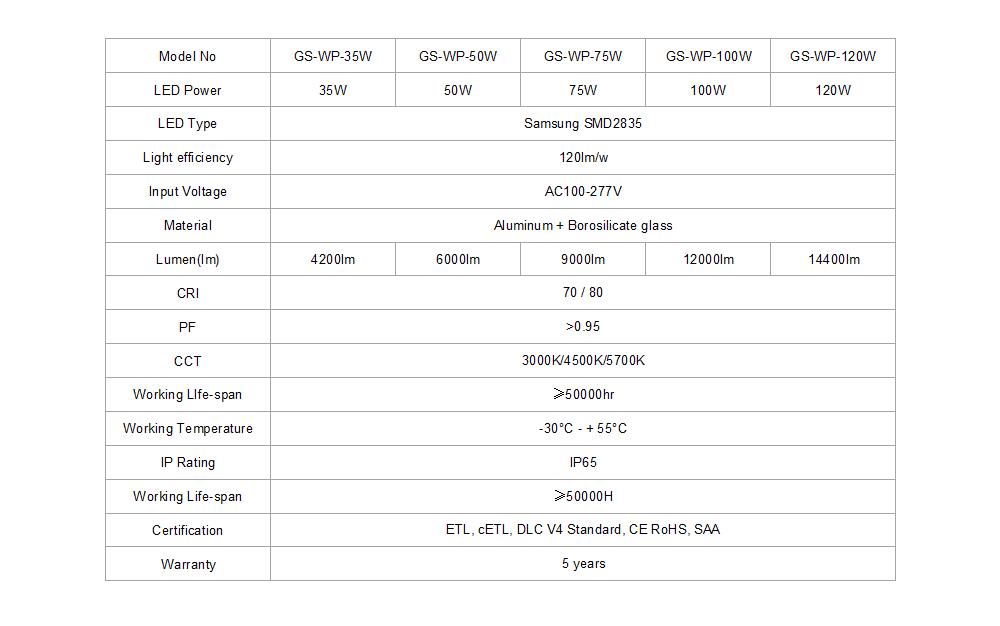 LED Wall Pack Light Physical Specification
LED Wall Pack Light Dimension

---
LED outdoor wall packs are used for commercial and industrial purposes to light up building perimeters and parking structures. Dusk to dawn LED wall packs with photocell or motion sensor are used for security lighting in warehouses and residential areas to automatically light up at night or when motion is detected. LED lighting is more energy efficient than metal halide or HID wall packs because of longer lifespan and warranty, better distribution and beam angle, and lower power consumption. Bees Lighting offers a wide range of LED Wall packs all with the large stock availability and fast shipping.
Choose from a great selection of LED wall packs from GS LIGHT. Provide bright LED lighting to hallways, building entrances, doorways and building facades with a variety of LED wall pack lights and outdoor LED wall sconces. LED wall packs also come in traditional full glass, cutoff, decorative or architectural, and rough service designs. LED mini wall packs, low profile wall packs and doorway lights are also available. Other alternatives include LED retrofit bulbs for HID wall pack fixtures. LED dusk to dawn wall packs come with built-in photocell sensor. LED wall packs come in 3000K, 3500K, 4000K, and 5000K color temperatures and can replace up to 1000 watts metal halide fixtures
Traditional LED Wall Packs
LED wall pack fixtures with full glass have the standard design similar to traditional wall packs. Full glass LED wall packs have a forward throw beam angle so the light is directed outwards and downwards. LED wall packs provide bigger coverage in lighting general areas, parking lot perimeters and building facades. Full glass wall packs usually have polycarbonate or prismatic glass lens to diffuse the light outward. Standard outdoor LED wall packs are used more for commercial purposes and applications where Dark Sky compliance is not required.
Cutoff LED Wall Packs
Cutoff versions of LED wall packs are designed to minimize uplight and direct the light downwards instead of the flood angle of standard wall packs. Cutoff LED wall packs are ideal for areas that require Dark Sky compliance to minimize light pollution. There are two kinds of cutoff wall packs: semi-cutoff and full cutoff. Semi-cutoff LED wall packs have a small amount of light going forward, while full cutoff LED wall packs have no direct uplight. Most cutoff LED wall lights have a visor or shield to direct the light downwards, or are constructed without a full glass and with the lens directly facing down. Dark Sky compliance is usually a concern for urban and community areas to prevent the light from going to other properties.
Slim LED Wall Packs
Slim LED wall packs have a simple and compact design that is easy to install on buildings to replace traditional bulky wall packs. Slim LED wall packs are cutoff or full cutoff style so the light is directed downwards, minimizng light pollution. These wall fixtures are ideal for low profile applications where the light fixtures do not stand out too much. Even with their slim design, these wall packs provide the same energy and cost efficiency as standard design LED wall packs.
Decorative LED Wall Packs
Designer series LED wall pack fixtures are ideal for decorative and landscaping applications. Decorative LED wall packs come in standard full glass or cutoff styles for use in various applications. These wall mounted fixtures complement building designs and provide an aesthetic look for hotels, arenas, and outdoor spaces. Decorative wall packs and outdoor LED wall sconces have a variety of shapes, sizes and color finishes to choose from. Slim LED wall packs and adjustable LED wall packs are popular options.
LED Mini Wall Packs
LED mini wall packs are ideal for use in doorway lighting to provide ample amount of light for building entrances, patios, porches and driveways. These low profile LED wall packs may come with built-in or optional photocell sensor for automatic activation at night. LED doorway lights reach up to 2000 lumens of superior bright lighting to provide security in residential areas. LED mini wall packs also include outdoor LED wall sconces for more decorative applications.
LED Wall Pack with Photocell
Dusk to dawn LED wall packs have integrated photocells that make them ideal for building perimeters, doorways, and loading areas. Photocell sensors allow LED wall packs to light up automatically when light levels become low. Dusk to dawn LED wall lights have the smaller variety that can be used as LED security lights for doorways and building entrances. There are also large-scale standard and cutoff wall packs with built-in photocells for commercial purposes. Dusk to dawn wall pack fixtures help save energy by turning on only when needed, and are also low maintenance compared to standard wall packs.
LED Wall Pack with Battery Backup
LED wall packs with emergency battery included are ideal for applications that require continuous light even after a power outage. The battery backup typically powers the LED wall pack for up to 90 minutes at a lower lumen output. LED wall packs with battery packs can be installed above doors, balconies, warehouse entrances and around building perimeters for security purposes. Use LED wall packs with battery backup as security lighting especially during emergencies and other times of need.