LED Stadium Light
LED Stadium light China manufacturer GSLIGHT since 2009 years.
Aluminum Cap, the light will be more focused and goes more far away.
Philips 3030 Chips, superior efficiency, Up to 150lm/W.
PC lens material, the transmittance is 94%, 30°/60°/90° Beam angle for optional
200-600w multi-power optional, 50,000 hours lifespan.
IP66 rating is applicable to outdoor environment.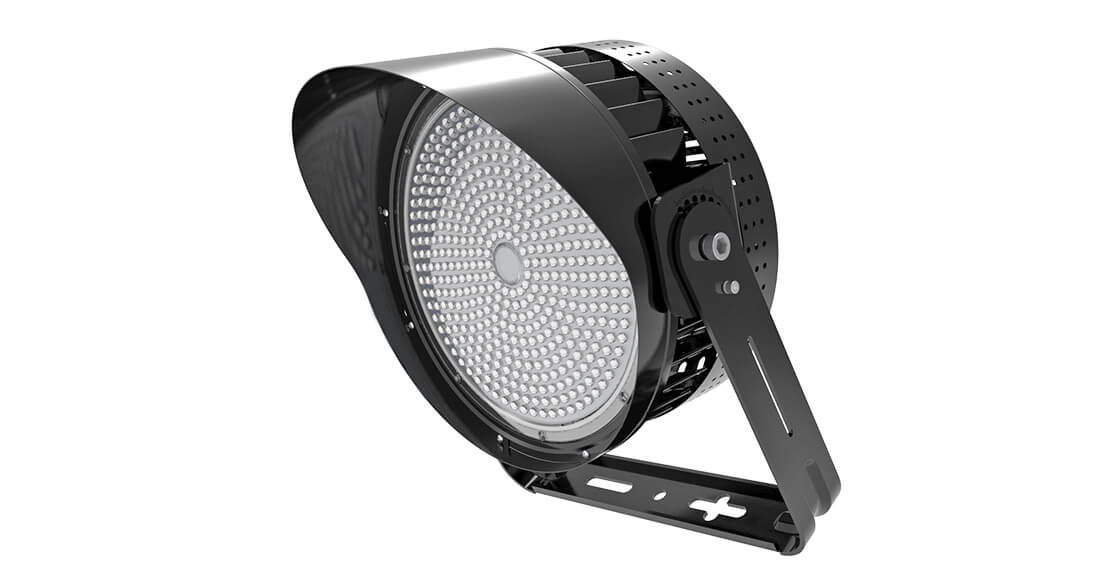 LED Stadium Light China
Meanwell IP67 waterproof driver 10 KV surge protection, Input AC85-305V.
Bracket can be adjustable with 180 degree, for various angles of irradiation.
Driver cover, protect drivers and make better in heat-dissipation.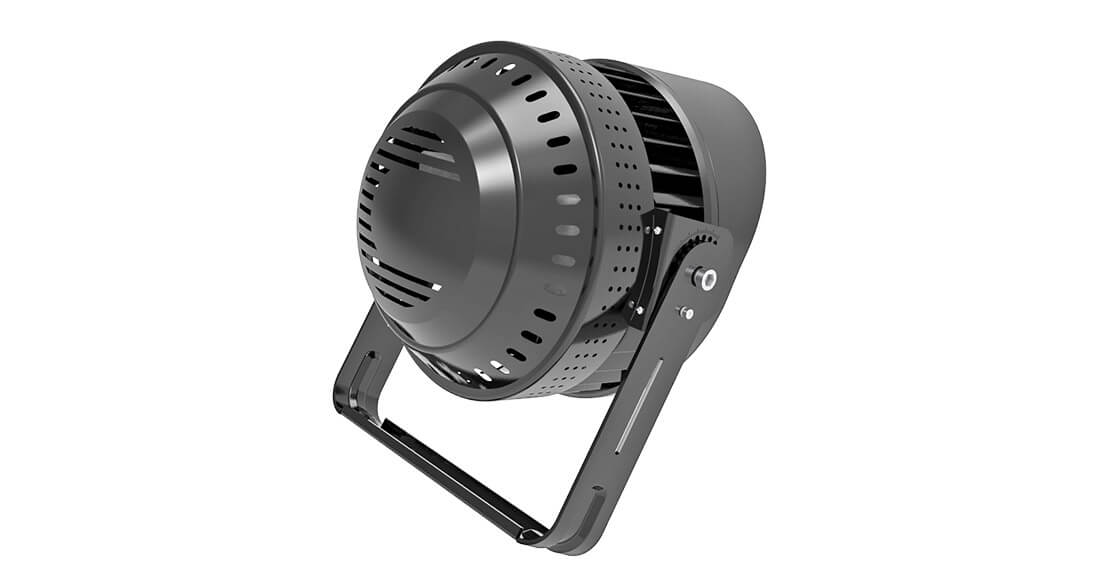 LED Stadium Light Matching Curve

LED Stadium Light Installation

LED Stadium Light Datasheet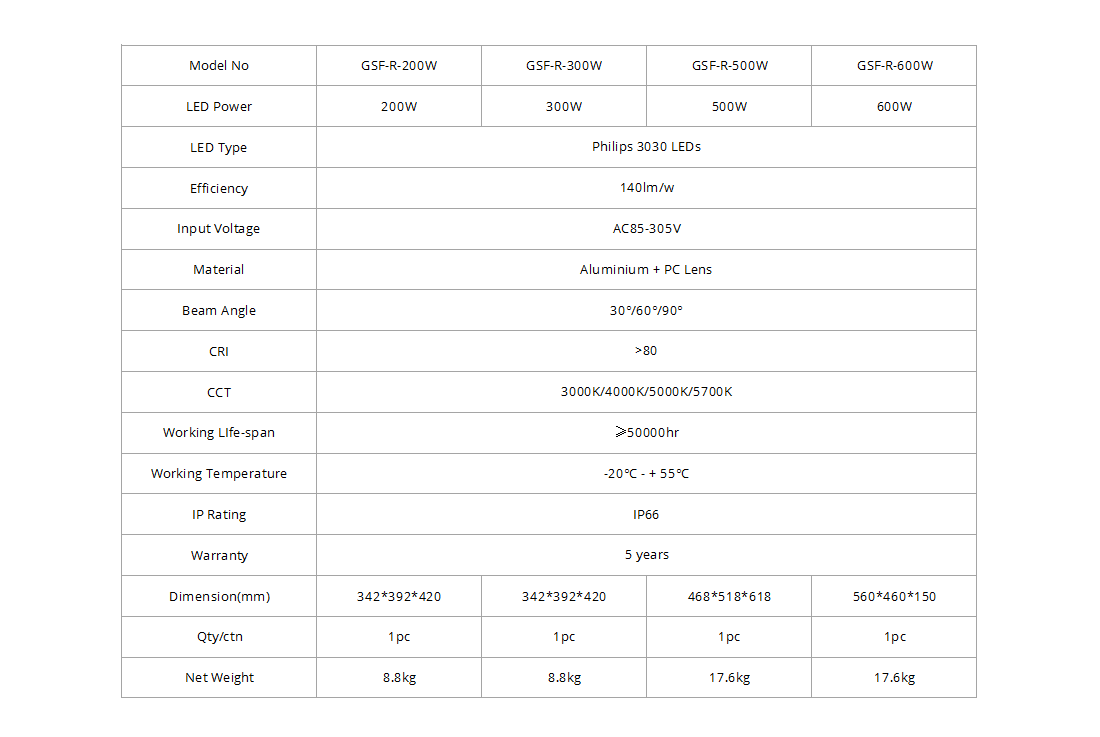 LED Stadium Light Dimension

LED stadium lights from LedsMaster are the best solution for sports application when comparing to metal halide, HPS and halogen, because of its high energy efficiency. Apart from saving the electricity cost, our lighting for football fields can enhance the users' compliance.
You can select our flood lighting fixture of stadium having power from 100 to 10000 watt (16000 to 1600000 lumens). Our LED sports lights saves up to 75% energy and lasts for 85000 hours. If you are looking for the high-power flood lights for your stadium, please do not hesitate to approach our engineer to get the free lighting design.
Premium Features of our LED Stadium Lights
1. Renewal Optics
With the stricter sports lighting requirements, the quality of our lighting has also increased accordingly. With our 5th generation optic lens, the energy efficiency, effective ground reach lumen, anti-glare and anti-flickering ability have improved by 30%. For the fast-moving sports involving vigorous movement of players and football, we believe our new generation lighting is best fit for all outdoor and indoor competitions.
2. Advanced Thermal Control

Our 3rd Generation all-in-one heat dissipation system is consisted of enlarged LED base plate and dense extended fin. This system reduces the junction temperature by effectively conducting the heat from source (LED chips) to the circular aluminum heat sink structure. The temperature inside the lamp body and the optic lens are reduced and thus the lights are well-protected. This is the reason why our LED lighting for stadium works for over 85000 hours.
3. Brilliant LED Packaging Technology
Gold Wire Free Packaging is only found in the high-end LED products. We adopt this stunning technology because the LED efficiency and life span can be further increased. Besides, we have upgraded the key material inside packaging for further insurance.
4. Light-weight LED Lights
Lighter luminaires reduce your installation cost and time. Our LED is less weighty than others because the lights are designed for football stadium. Our engineers constantly modify the design and make the lamps become more compact. No matter for new installation or old light replacement, our product is easier to install.
5. High Quality Lights
Our LED stadium flood light has excellent color of CRI & TLCI > 96, wide color temperature options from 5000 to 7000K high purity lights, stable DC-output power supply to secure <0.3% flickering rate. All these features make our lighting solution suitable for general sports, professional sports & broadcasting, as well as high speed camera broadcasting.
6. Environmentally Friendly and Safe Material
Unlike the traditional LED light, our products are made of 6063 pure aluminum instead of diecast aluminum. Besides, our light adopts Polycarbonate instead of acrylic optic lens, as well as 304(316 stainless steel screws and stands instead of galvanized iron alloy material. Unlike the metal halide or mercury lamps, our LED does not contain lead, mercury and other toxic chemical, which is safer and practical to use.
Specification

LED Stadium light China manufacturer have below specification:
Power: 200W / 400W / 600W / 800W / 1000W / 1200W / 1500W /
Light output: 32000 lm / 60000 lm / 90000 lm /12000lm/ 150000 lm / 180000lm / 2200000 lm
Work Temperature: -40°C to 55°C
Color Rendering Index: 80 / 90 / 96
Color temperature: 5000-7500K
Beam angle: 15°, 25°, 40°, 60°, 90°
Power supply: MEAN WELL / Inventronics
LED chip: Lumileds / CREE
Waterproof: IP66 / IP68
Applications
GS LIGHT LED Stadium light China manufacturer stadium light applications.
Football filed, Tennis arena, indoor sport stadium.
Football Stadium Lights Buyer's Guide
What is the best stadium lights? Why doing LED replacement for metal halide, halogen, HPS and mercury lamps? What factors should we consider before buying the football field lights? This article will give you a brief idea on how to light up the outdoor ball field having FIFA World Cup, Olympic Games, Premier League and UEFA standards with LED.
It is exciting to start preparing the documentation and products for the lighting tender. To increase the chance of success, the first and foremost tips we need to consider is the requirement of the lighting fixtures, including the lux (brightness), and uniformity.
There are many regulations regarding to stadium lighting. there are six types of football field. Elite Level A for Europa League finals, Level A for Super Cup final, Level B for semi-final matches, Level C for qualifying round and so on. The lighting standard increases with the importance and popularity of the matches, says we have the highest standard for final.
1. Brightness of Football Field
The lighting is divided into two parts including horizontal and vertical luminance. Horizontal means the light cover the ball field, while vertical is for the portrait of players. The document states that the lighting for stadium should have 2000 lux for horizontal and 1500 lux for vertical. For this setting, we will need hundred sets of high power LED flood lights.
2. Lighting Uniformity
UEFA also requests the stadium lighting to have 0.5 to 0.7 uniformity. This parameter is based on a 0-to-1 scale indicating the extent of uniform distribution of the luminance. it is an important consideration because uneven lights will irritate the player's and audiences' eyes. In fact, it is not any easy task to accomplish the high uniformity as we can imagine that the light spot is circular (or often rectangular), there will be overlapping and the areas that do not have overlap. One of the techniques we adopt is using the LED lights having smaller beam angle and smaller power. The asymmetric design can improve the lighting distribution. We provide LED lights for the international matches such as Premier League and Olympic Games.
3. TV Broadcasting Compatibility
Now is the new era of 4K TV broadcasting. Uniform and quality vertical luminance on LED flood lights allow high standard photo and video capture production. Therefore, we put much effort to reduce the glare of luminaires as well. The anti-glare optics in our LED lights do not produce flickering and dazzling feeling on players and audiences. This technique is achieved by special lens cover and coating that maintains the brightness while suppressing the unwanted glare.
4. Height of Stadium Roof
The height of the luminaries is usually fall within 30 to 50 meters; therefore, we need the good LED lighting that does not have too much loss of luminance. Indeed, the light loss is sometimes inevitable for nowadays technology because no matter how precise you have the photometric design, not all 100% light beam is projected to the football field. Instead, part of the lumen (around 30%) is scattered to the surrounding. To solve this issue, we have two ways.
a) Using Better Optics
Adopting the high-quality LED chips & lens cover reduce the loss of brightness because the light beam is more concentrated; however, the limitation is that we cannot use these lights for the entire football pitch because the uniformity will be decreased – imagine there are countless circular spots on the ground. Hence, it is necessary to achieve a good balance by having a comprehensive photometric design. Our engineers are eager to help. You can always get the prompt response by filling in our form.
b) Increasing the Number of Lighting Fixtures Used
It is a relatively passive way to install more flood lights onto the stadium ceiling to against the lumen depreciation. For instance, if the theoretically (calculated) value is 10000 watts, we will need at least 12000 to 13000 watts eventually to have the best outcome.
5. Power of LED Lights Required
To have a quick idea on the total power needed for the football stadium lights. We can have the following calculation. Take a traditional 105 m * 68 m football field as an example. The 7140 meter-square turf requires 7140 * 2000 lux = 14,280,000 lumens. What does it mean? Since our stadium floodlight has luminous efficiency of 140 lm/W, the minimum wattage of LED should be 14,280,000 / 140 = 102,000 watts. It is the theoretical minimum value we needed, as we also need to take the light loss and the height of luminaires into account as mentioned above. Before doing the computer lighting simulation, we will know that the power required is about 150,000 watts. Isn't it incredible?
At this point, you may ask what would be my situation if I currently use metal halide lamps to light football stadium? This answer is doubling the power required! Since the lighting efficiency of metal halide is about 70 lm/W, the power required is about 300,000 watts. Therefore, having the metal halide replacement for stadium lights can save much energy and thus the electricity bill.
6. Stadium Light Pollution Problem
Top lighting for stadiums must not lead to light pollution. As the light leakage significantly affect the neighboring residential areas. In 2017, there is a repetition related to this issue in Michigan, US. The NFL stadium in Detroit uses very high-power lighting. However, there is considerable amount of light scattering outside the venue. Some even complained that the light is irritating and greatly affecting the sleep when the house is 5 km awayfrom the arena. The safety of road users is also negatively impacted.
In fact, the ground brightness surrounding the arena should not exceed 25 to 30 lux. It has become one of the lighting requirements.
Metal Halide Replacement for Stadium Lights
About 45% of football stadiums in US still uses traditional light source such as metal halide, HPS and HID lamps. Although the efficiency of MH lamps is improving from time to time, it is still significantly less than LED lights. Nowadays, the efficiency of LED has raised to 140 lm/W while MH is about 75 lm/W. Apart from lights for new arena, we also supply high quality LED for metal halide replacement of football stadium lights.
7. Longer Life Span
By retrofitting metal halide to LED lights, the life span of the luminaires is greatly increased to 80,000 hours. If you turn on the lights for 8 hours per day, our products can last for at least 25 years without significantly decline on brightness. LED is also regarded as a durable light because of its solid-state properties. Our modified lighting products do not contain the delicate components such as surface soldering and gold wire.
8. Good Heat Dissipation System
Another reason for high durability is that our LED lights for football fields have a very good heat dissipation system. As a matter of fact, if the heat continuously accumulates around the LED chips, the brightness and life span will be decreased; and thus, we also attach foremost importance in improving the heat sink that reduce the junction temperature of lights for long-term operation. Generally, it is achieved by large and circular arranged aluminum extension fins which contain large surface areas.
9. Durability of Floodlights
After the metal halide replacement for stadium lighting, we can have a stronger material for the luminaries. It is because our LED lights are made of polycarbonate and quality aluminum alloy. The material is anti-corrosive, so it is very unlikely to be damaged for normal use. Besides, our products have IP66 waterproof certification. It can tolerate rainstorm and general water splash.
10. Warranty
According to our experience, the LED companies usually give 1 to 5-year warranty. Why not selecting the one that has longer guarantee period, and thus you can always obtain the quick support from the company.
Customized Stadium Lighting Design
A good lighting design unleashes the full potential of the LED stadium lights. Our engineers consider the projects on case-by-case basis, such as lux & uniformity requirement, pole height, weight tolerance and etc.
Step 1: Understand Your Football Stadium
First and foremost, the layout of the sports field and high mast poles are acquired. We will draw the 3D models to simulate the actual outdoor environment. The more information we get, the more accurate lighting plan we can deliver.
It is very common for the field to have 4-pole, 6-pole, or round roof arrangement. The height of mast is up to 30 to 50 meters. The LED lights are mounted to the corresponding 3D light poles.
Step 2: Selection of Stadium Flood Lights
It takes hundreds of sets of high power flood lamp to provide adequate brightness for Premier League, Olympic Games or other professional football fields.
We cannot use the same setting in different projects because the pole height, lux requirement, horizontal distance between the ball field and pole, and other parameters are unique. Our engineers will select the best power and beam angle combination of the LED lights.
Step 3: Orientation of Luminaries
After the selection of proper power and beam angle, we will rotate the lights inside the software to further improve the ground lighting uniformity. The projection angle of each luminary is finely adjusted to optimize their brightness and uniformity. Contact us for this premium service today.
Step 4: DIALux Photometric Report
After the complicated work, the results are outputted as a DIALux file, which consists of false color rendering, isolines and value chart.
Conclusion
Hence, our high-power LED stadium floodlights are compatible to the professional requirement imposed by FIFA World Cup, Olympic Games, and Premier League matches. Our self-developed Premium Optics guarantees super bright & no-shadow illumination (4K broadcasting supported), as well as the exceptional ground reach ability of light beam. The anti-glare technology reduces the impact on the players & spectators. We understand the lighting requirement as we completed several Premier League projects with very good compliance.
To give you the best solution, we offer free lighting design so as to accurately predict the outcome of the illumination. Our lighting experts are proficiency to handle different types of football stadiums, no matter for recreational or professional ones. We combine the use of various power and beam angle to achieve the bright and uniform lights across the ball fields. According to the height and number of light pole, area of your field, as well as the lighting requirement. To enjoy this service, please feel free to contact us at email sales@gs-light.com